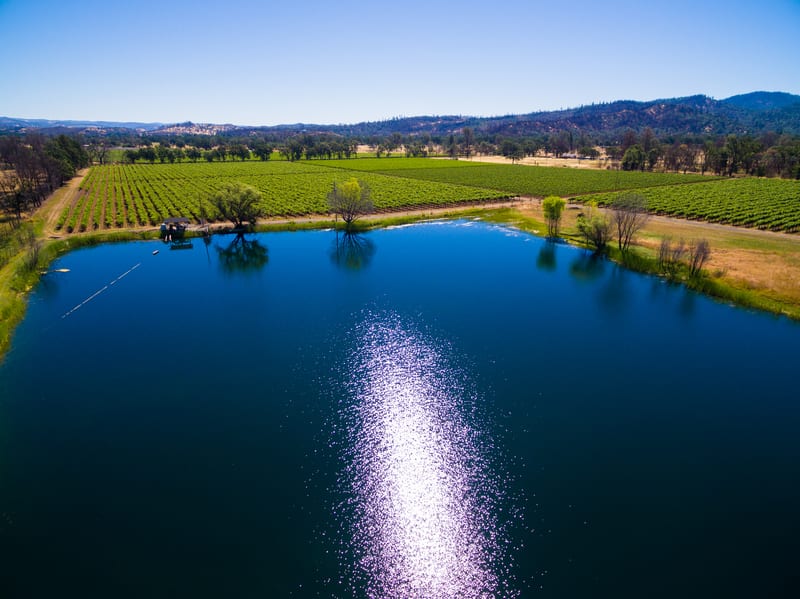 Lake County – Middletown
Rare, large vineyard acreage in southern Lake County and close to Napa County, consisting of 159 total acres and 91 acres planted to wine grapes with 15 additional plantable acres. This commercial farm represents quality and investment returns, a blend that is highly sought after by today's buyer. The infrastructure of the ranch consists of two 3 bedroom residences, one for the owner and the other for the ranch foreman. Water is delivered to vineyard via State of California Water Rights to divert the on site creek (over 200 acre feet), 3 reservoirs, and 2 on site wells. The key to great quality is great ground and this ranch is ideal for Bordeaux with adequate ripening season and summer heat units. The price per ton achieved by the current owner is a statement of quality with the Cabernet selling for $2,600+/- per ton, well above the district average price. The property is also permitted to produce 15,000 cases of wine on site and allows for public tasting and events. In addition, there is a gorgeous executive building site at the back of the ranch overlooking the main reservoir and estate vineyards. If you are looking for an income farm with major tax benefits, management in place with current foreman interested in continuing operations, and a great lifestyle, this is your vineyard.
Presented at $4,500,000
[ Click For Marketing Brochure (11MB PDF) ]
PENDING
Features at a glance:
91+/- acres planted to premier red wine grapes
15 acres of additional plantable land
159+/- acres total in two legal parcels
Water rights from State of CA, Reservoirs, 2 wells
Grapes sold at above district average pricing
Two residences, shops, barn, infrastructure
Turn-key opportunity with foreman wanting to stay
Grape contracts
Exceptional ground for high quality fruit
Creek frontage
Executive building site
Interested in this listing? Contact us below.