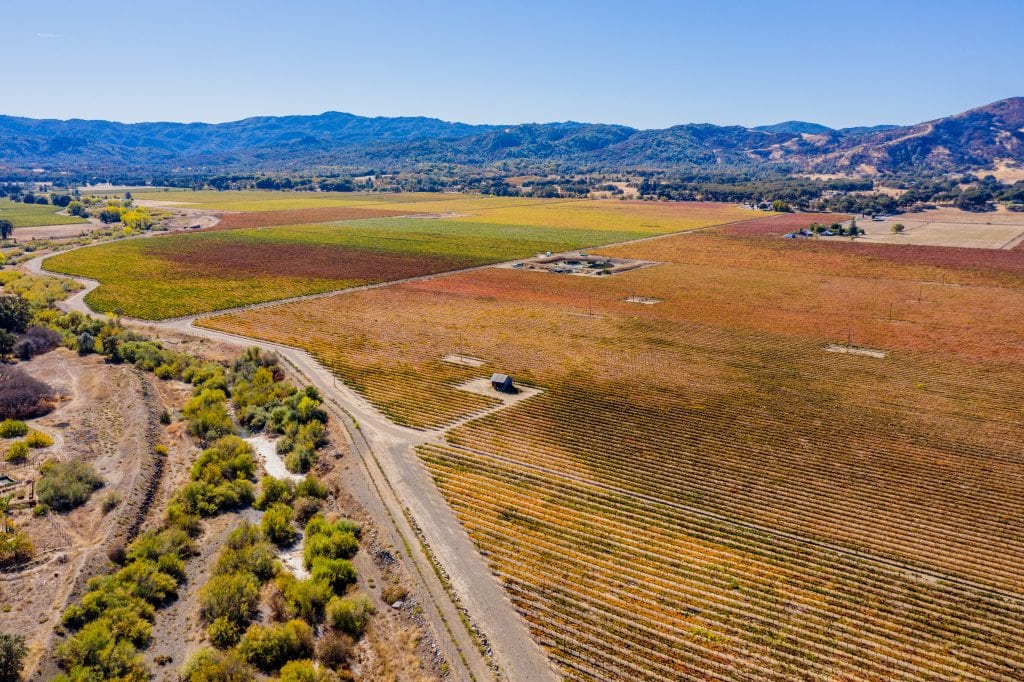 The Western Skies Ranch and Vineyard is a 368-acre holding located six miles south of Lakeport at the southern end of the Big Valley AVA, nestled at the eastern foothill of the Mayacama range with frontage on Highlands Springs. There are a total of 312.2 acres planted in 19 different blocks that include Cabernet Sauvignon, Petite Sirah, Merlot, Chardonnay, Sauvignon Blanc, and Malbec.
To grow exceptional grapes there is good ground with ranch soil, mostly consisting of gravelly loam, silt loam, and still loam soils. Water for the vineyard is provided by 3 highly productive groundwater wells, with pumping rates at approximately 1500 gallons per minute and 3 main on-site reservoirs with a combined holding capacity of 45-acre feet. The vineyard has both drip irrigation and solid set sprinklers for frost protection.
Grape production on the ranch has run as high as 2,500 tons and significant upgrades to the vineyard have been invested into the ranch in the last 5 years. Pricing per ton on the varietals varies between $1,150 and $1,800/ton. Most of the fruit from the ranch has been sold to two large wineries with 100% of the Sauvignon Blanc going to one and the balance to the other. The ranch is highly efficient and the trellis system of the vineyard blocks supports 100% machine harvesting.
Further ranch support infrastructure includes a two-bedroom, one-bathroom manufactured home, small office, ranch storage building, large working barn, and outbuilding.
368 +/- contiguous acres in the Big Valley AVA
One of the largest contiguous vineyard holdings in the north coast
312.2 +/- planted acres in 19 different blocks
Grape production on the ranch has run as high as 2,500 tons in 2016
Pricing per ton on the varietals varies between $1,150 and $1,800/ton.
3 highly productive groundwater wells, with pumping rates at approximately 1500 +/- GPM
3 on-site reservoirs with a combined holding capacity of 45-acre feet.
Potential for 18 acres of cannabis cultivation per county ordinance
Small office, ranch storage building, a large working barn, outbuilding, & manufactured home
Presented at $9,300,000
[ Click Here For Marketing Brochure (14MB PDF) ]